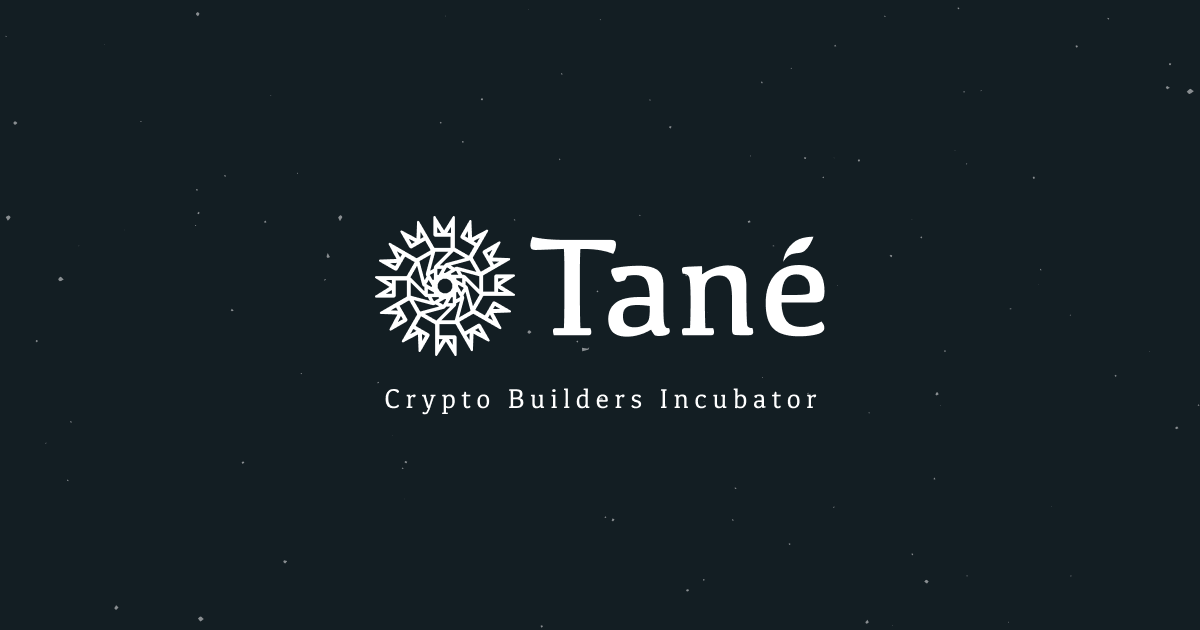 I'm Ikuma Mutobe from Tané.

We have launched an incubator focused on Web3 called Tané, based in Dubai, NYC, and Tokyo. At the same time, we raised about $8 million from Japanese technology companies and venture capitals such as DEEPCORE(Backed by SoftBank group), X Tech Ventures, DeNA, B Dash Ventures, and private investors.

For the past 13 years, I have founded two startups and operated a startup in the consumer internet sector, and before that, I was involved in investment and M&A at Softbank and investment banks.

As for Crypto, I have been in this space since 2014 by starting to make investments and exploring business ideas. After that, I have experienced with Ethereum, ICO bubble, Defi, and NFT as an individual, and now I have a chance to start a new business related to Crypto/Web3.

We will share with you what we are going to do.
Practical Contributions are a new form of Capital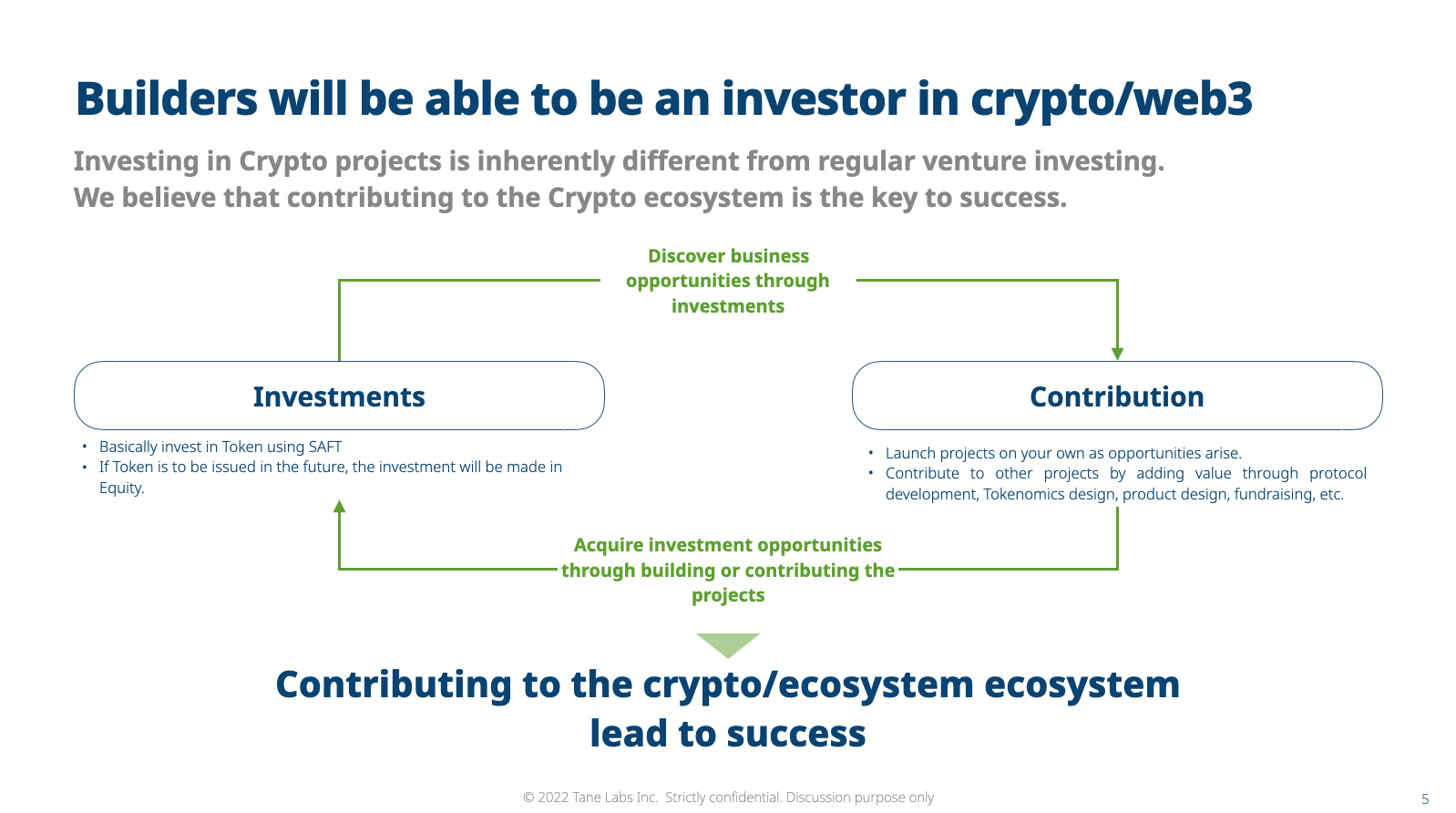 A US engineer I met on Discord told me he gets paid in tokens these days.

He holds many kinds of tokens, but they were not tokens that he invested in or purchased but tokens that he received as compensation for development. When I heard this, I remember thinking this sounded like an investor's portfolio.

This was the trigger that made me start Tané.

The value of money has continued to decline due to the long period of monetary easing. In the U.S., a16z and other prominent venture capital firms (VCs) have been strengthening their service functions other than investment functions for more than ten years in an attempt to provide functions other than investing. Even in Japan, an increasing number of major VCs have such functions.

However, in the Web3 world, tokens have been available. It is now possible to design rewards more flexibly than conventional methods such as shares or stock options. It has become easier to give rewards based on contribution, and tokens are increasingly being given as compensation for specific value contributions.

These stories indicate the possibility of a new style of investor.

In Web3, to assign tokens to all stakeholders, there is a tendency for each stakeholder to be required to clarify what contribution he or she is making.

Therefore, I believe that investors are now required to make a " tangible value contribution" rather than simply investing in a company.

We recognized this change, so we teamed up with people with a lot of experience in " tangible value contribution.
crypto-native builders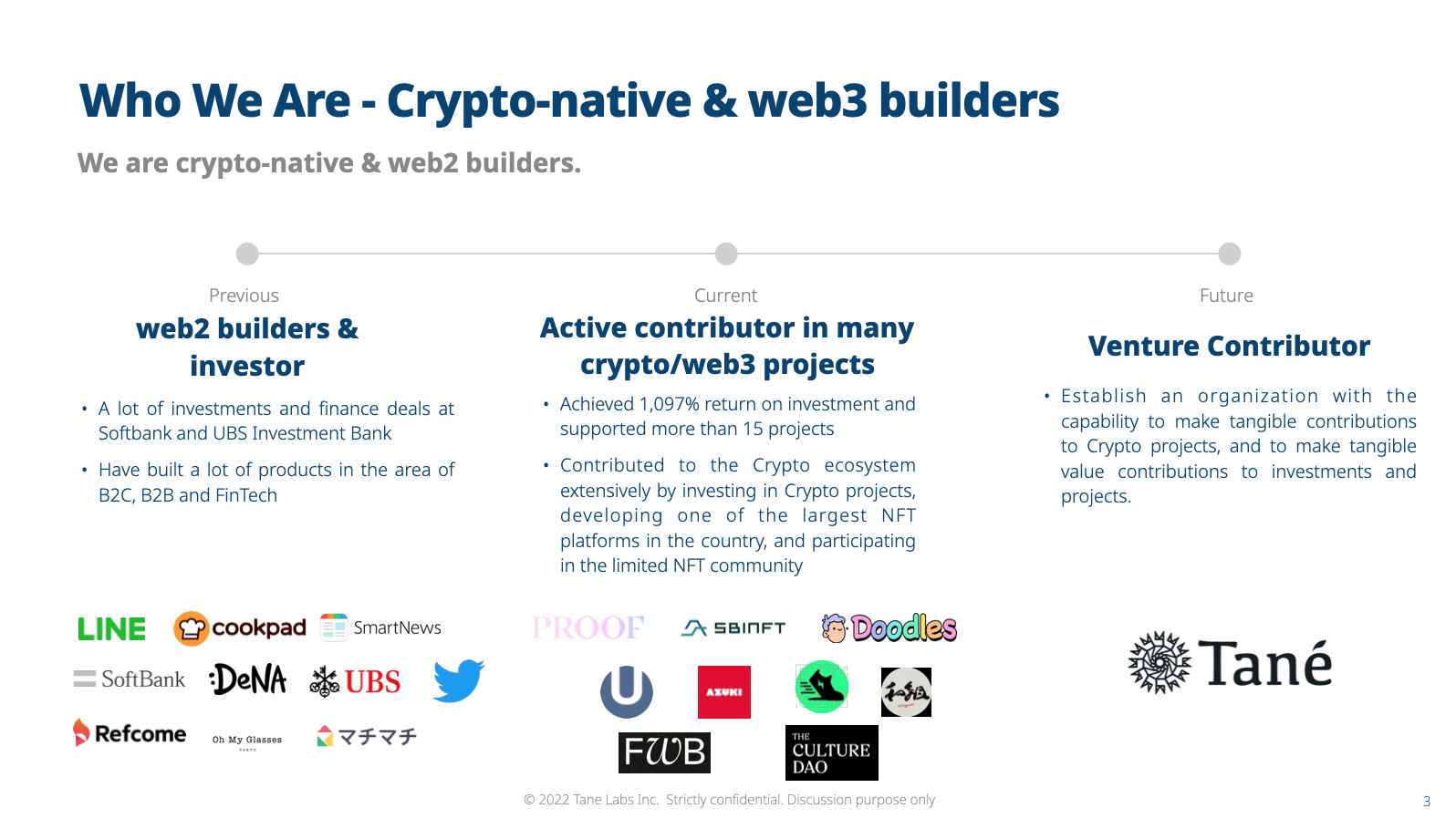 Tané means seed in Japanese.

We chose this name because we have a lot of experience in seed-stage start-ups, and in Tané, we want to commit to investing in and supporting the business of seed and early-stage startups and projects.

As a new form of investor in Crypto/Web3, Tané wants to be a part of each project's community and make a concrete contribution not only in investment but also in engineering, business development, design, fundraising, and especially Japan expansion.

Let me introduce some of what we are doing specifically, for example, The Culture DAO in which we invest.

This is a project where creators and developers of Generative AI gather to develop Generative AI technology and create content using that technology in a DAO format. Since there are many creators, there is no one to oversee Treasury Management, so we are supporting them in considering policies and collaborating with them on business development in Japan.

Next is NOT A HOTEL.

Tané member Dongri was in charge of designing the NFT and developing the smart contract.

Dongri has extensive development experience at LINE and Fintech companies, and is dependable, having developed a prominent NFT marketplace himself in the past.

Other members are Takeshi, who has worked as a developer and product manager at DeNA, Twitter, and SmatNews, and Takaya, who has experience in UX and front-end development, including Cookpad and Kibela.

We have a group of members who can build easy prototypes. We look forward to providing substantial support to our investment and support partners.

Although we have just started, we have executed investments in 7 projects and contributed o 3 projects.
Individual Empowerment through Decentralization
I became obsessed with p2p services such as Napster in junior high school. This made me interested in the Internet, which I later became involved with as a career.

More than 20 years have passed since the Internet first appeared, allowing individuals to share their thoughts and content with and communicate with people over the world. You can also hail a cab with your phone, stay at someone's house, and have meals delivered to your home.

We believe decentralization based on blockchain technology will reduce our dependence on centralization because areas compatible with decentralization and permissionless (finance, around content, etc.) should be pulled in a better direction sooner or later.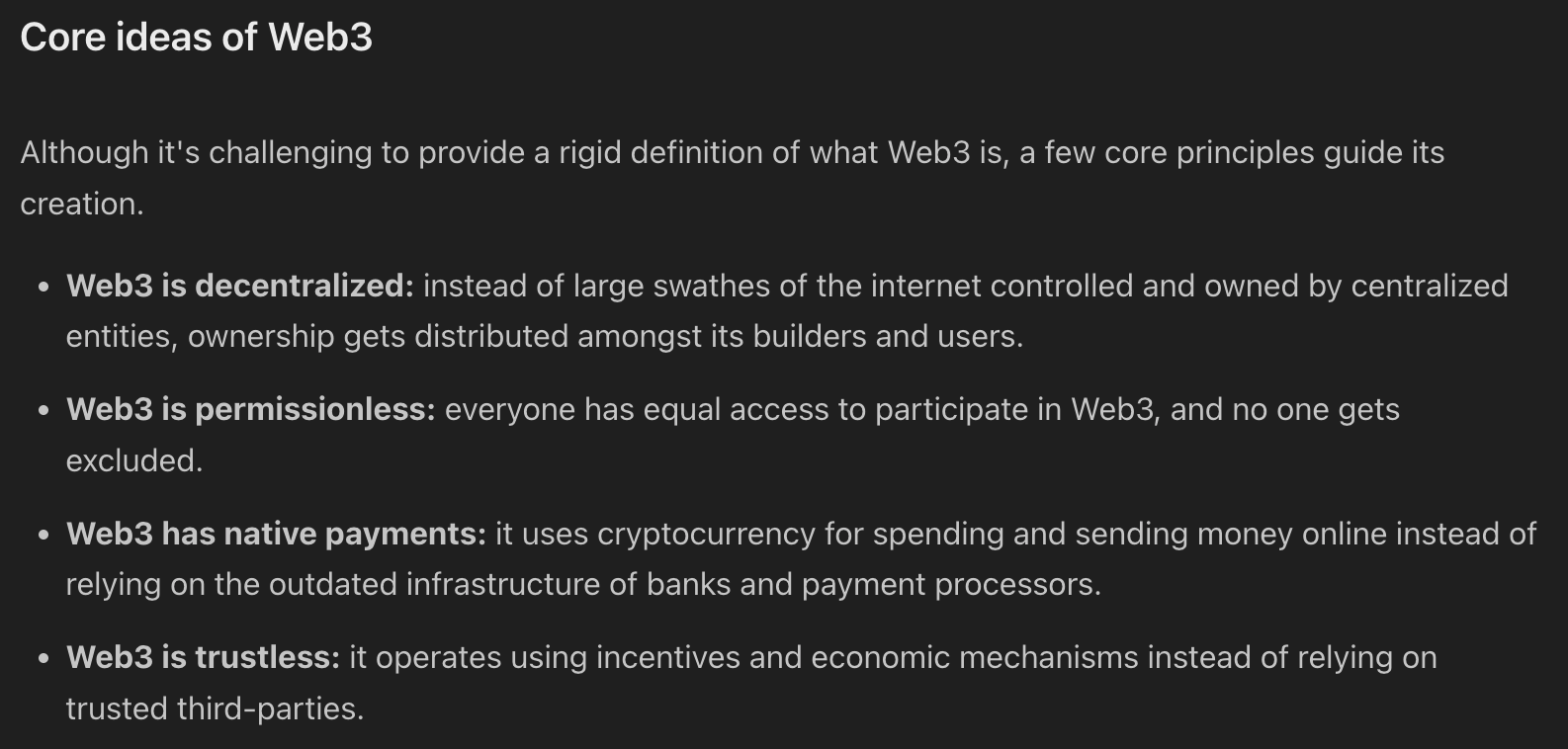 We also believe that the concepts "Web3 is decentralized," "Web3 is permissionless (anyone can access it)," "Web3 has native payment methods," and "Web3 is trustless (independent of third parties)" in Ethereum's Web3 description are fundamental.

As Tané, we believe that "areas that can be made better through decentralization, permissionless and tokens " are the ones that make sense.

For example, Helium and Pollen Mobile are challenging to build 5G communication networks with decentralization at a lower cost than the major telecom companies. This is an area called Proof Of Physical Work that we at Tané have been paying attention to.

For example, a token incentive could successfully move them to take action and make a change, even if users had not previously taken action to solve their issues.

Many people also say that cryptocurrencies and wallets are difficult for many people. But this is only a matter of time and should be solved eventually, with the development of mechanisms like Account Abstraction to reduce the burden of private key management and Solana Mobile, which turns the cell phone itself into a hardware wallet.

Whether consciously or not, these usability improvements will lead many people to accept decentralization as a way to manage their data and assets.

Seed = 種(Tané)
Web3 has just begun. We would like to work with outstanding entrepreneurs to create the "seeds" (種 Tané) that will become the ecosystem's soil.

In the first few months of Tané's activities, we have met many entrepreneurs and builders from all over the world. Meeting entrepreneurs who try to build something new with social meaningfulness is a beautiful thing in itself.

I am thrilled with what we have built at Tané with a great team of people. We focus on our own things, helping entrepreneurs to build great projects, make our stakeholders a lot of benefits, and have a great time doing it.

Again, we are available for investment, business support, and sometimes even starting a business with them from the beginning.

If you have a business that you think would be interesting to us, and if we have a similar vision, we'll be able to get together and chat about it. Our contact is here.

Disclaimer
This post is for general information purposes only. It does not constitute investment advice or a recommendation or a solicitation to buy or sell any investment and should not be used in the evaluation of the merits of making any investment decision. It should not be relied upon for accounting, legal or tax advice or investment recommendations. This post reflects the current opinions of the authors and is not made on behalf of Tané or its affiliates and does not necessarily reflect the opinions of Tané, its affiliates or individuals associated with Tané. The opinions reflected herein are subject to change without being updated.